Hardware Design
As part of our integrated ODM Plus Solutions, the R&D team of SFO Technologies stays tuned to the technology curve, to innovate, conceptualize and create the technologies, tools, systems and processes needed to create novel products. The focus is on ideas that make products user-friendly, energy efficient, eco-friendly and to bring in value-added features which eventually result in enhanced satisfaction of our customers and the end consumers in our areas of specialization , viz. Healthcare, Transportation, Communications, Aerospace & Defence, Energy & Industrial. SFO R&D Centre is recognized by the Department of Scientific & Industrial Research, Government of India. The services are extended to many Fortune 500 companies on advanced technology projects and build-to-spec solutions. The Centre also maintains close association with Government laboratories, leading Universities and institutes to keep abreast on state-of-the-art technology trends.
SFO ensures that, all aspects of the product – form, fit and function – are addressed holistically with a view to enhance user experience and ensure low Total Cost of Ownership.
Outcome Driven Innovation
SFO practices Outcome Driven Innovation (ODI) in every phase of the Concept to Build Cycle. Whether it is development of the basic Concept to a Prototype or an End to End Service, SFO is known to partner with the customers to handhold up to the phase of Product Certification Services and even to the end of the lifecycle, depending on customer requirements. Our decades of research and innovation expertise – demonstrated by the number of patents filed and ready-to- use product building blocks at hand – provides customers with the edge to quickly go-to-market, thus gaining the first mover advantage.
Manufacturing Oriented Design
We are always looking at manufacturability of the design at the concept stage itself. That's why, as part of our End to End Service, we are able to service both New Product Introductions (NPI) and product re-engineering for obsolescence management, using concepts like Design for Supply Chain, Design For Manufacturability, Design for Assembly, Design For Testability and Lean Manufacturing in our robust delivery model. At SFO, we call this "Manufacturing Oriented Design" (MOD).
The various teams within the R& D Centre specialize in the design of Electronics circuits, Power supplies, Photonics, Mechanical and Industrial aspects and are experienced in carrying out critical component engineering activities such as BOM Risk Analysis, alternate part finding and ROHS compliance. We also do Reliability Analysis based on Stress testing, MTBF calculation, etc.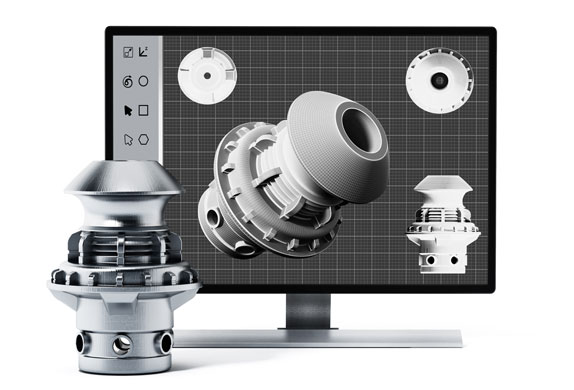 Electronics Design
The electronics team offers design services ranging from the architecture level to Printed Circuit Board level to suit customer-specific requirements. The team has a rich track-record in high-speed digital designs, analog and mixed-signal designs and embedded system development. Micro-Controllers/Micro-Processors from leading OEMs such as TI, Freescale, Cypress, AVR, Microchip, Xilinx, Lattice, Altera etc are supported. The high-speed designs are verified post-layout using SI (Signal Integrity) simulation, using tools such as Hyperlynx and SPICE, followed by detailed design verification/validation testing. Orcad, Allegro, Mentor, Altium, Pads, etc are typically the tools used for schematics capturing and PCB layout design. Prototype assembly is carried out using the associated Manufacturing facilities. Testing and measuring laboratory is equipped with instruments such as High speed Oscilloscopes, Logic Analyzers, JTAG Interface, Network Analyzers, Spectrum Analyzers, Field probes etc. While we have multiple testing chambers for carrying out the required Environmental tests, certain tests such as EMI (Electro Magnetic Interference) and EMC (Electro Magnetic Compatibility) are outsourced to NABL certified external labs.
Power Electronics Design
Power Electronics Design team combines expertise in developing custom power supplies with enhanced product Safety and EMC features. The services offered include new product development, re-engineering, regulatory compliance services, etc. Our present product capabilities include high efficiency power converters, intelligent battery chargers, control gear, electric vehicle chargers, renewable energy conversion & management products, etc.
Mechanical Design
Since SFO Technologies is catering to customers from diverse domains like Healthcare, Transportation, Communications, Aerospace & Defence, Energy & Industrial, the mechanical designs have to comply with challenging environmental standards and specific regulatory requirements. Thus, the thrust area for the mechanical design team is to have the capability of providing versatile solutions in design, engineering, and prototyping. The Mechanical team relies on advanced design and analysis tools, materials and manufacturing processes to stay ahead of the competition. SFO believes that adoption of the most suitable design methodologies for "first time right" solutions is the key to shorten the design cycle time and to boost the manufacturing throughput.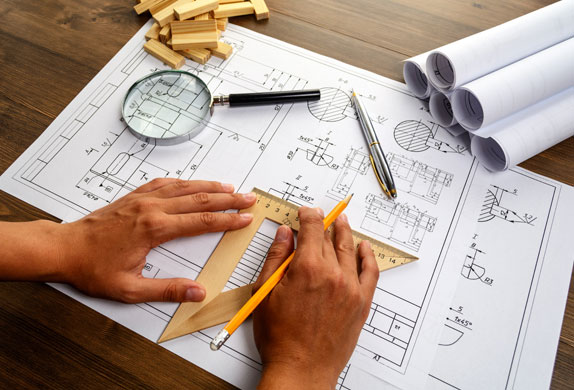 Industrial Design
This team is tasked with the responsibility of fitting form to function. They combine aesthetics with ergonomics and usability, enhance the user-friendliness of the final product and ensure streamlined manufacturability. Computer Aided Design tools come in handy during the process.
The Industrial Design group works jointly with the Mechanical Design group to enable and manage the complete product development cycle, right from capturing user requirements, concept development, engineering and prototyping, and manufacturing support. The functional split between the Industrial Design and Mechanical Design is highlighted here. SFOs Industrial Design Group is well equipped to provide the required services completely in this area.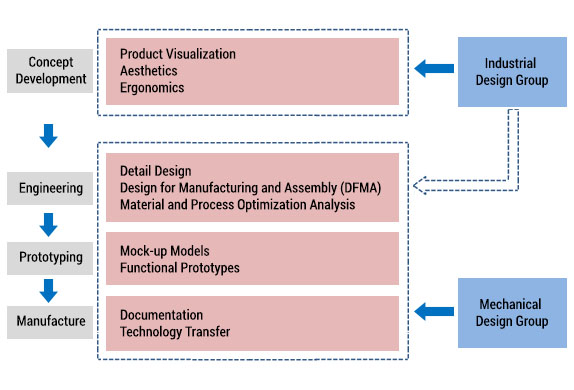 Photonics Design
The Photonics team focuses on the development of components and systems for communication, sensing, imaging and industrial applications. In optical communication, we have deep domain expertise, both for the passive and the active components.
Passive components developed for optical networks include fused fibre and PLC based splitters, attenuators, WDMS, MT connector based fan outs etc. The division has developed many novel passive products. For systems level passive, SFO works mainly in Fibre Management solutions for FTTH and long-haul optical links. Main fibre management solutions include Fibre Distribution Terminal (FDT) with internal rotation spool, Fibre Distribution Hub (FDH) and High-Density Splitter racks for central office applications etc. SFO has several patents in this domain.
For the active components, the capabilities range from high-speed digital transmitters/ receivers, transponders, analog transmitters etc. The design capabilities include fiber lasers, optical amplifiers, interferometers, interrogators, dispersion compensators etc. Besides this, the Photonics team focuses on developing unique monitoring solutions for fibre optic networks and security applications. This team is also involved in providing solutions for optical sensing, laser imaging systems, fly-by-light systems etc.
SFO's breakthrough Fibre Sentinel System (FSS), with its exclusive WaveSense intrusion prevention technology, provides continuous, real-time monitoring of a fibre connection, detects any physical intrusions, and instantly eliminates the intrusion by shutting down the transmission.