Quality – A Key Differentiator For SFO Technologies
When one is dealing with mission/life-critical equipment like Printed Circuit Board Assemblies (PCBA) / High-Level Assemblies (HLA) used in Aerospace, Defence, medical diagnostic equipment, industrial automation, automobile stability control etc, QA & QC of both hardware and software becomes a critical activity that begins right from the stage of capturing the customer requirements, explicit as well as implied, through developing the concept & specifications, design, prototyping, manufacturing, testing & certification and up to the after-market support. Hence, it is not surprising that quality – whether it is at the organizational level or ingrained in our products and services – has been a key focus area for SFO, like for any other entity in the NeST Group.
At the development stage, poor quality can lead to avoidable repairs and reworks, cost and schedule over-runs, besides reflecting poorly on the company's brand image. In the deployment scenario, undetected impairments in product quality can range from a sub-optimal or non-responsive User Interface for the software component that might impact only the usability of the application to critical design, engineering or programming errors that can result in high-impact disruptions due to outright failures, corrupted data, application outages, security breaches, and performance issues.
Thus, relegating quality in the process, systems, standards and practices to the side-lines can adversely impact both the risk and cost factors associated with a product development project and affect the organization's bottom-line and reputation – a realization that has guided SFO to adopt a pro-active approach to incorporate sterling quality management practices
Continual quality improvement has always been a way of life for us. Delivering quality products – comprising hardware and software – has been ingrained into our corporate DNA. Quality products help us to achieve customer satisfaction, ensure customer retention and reduce the risk and cost of rework and repair, besides boosting our brand equity. Our numerous quality certifications have empowered us in achieving better business growth, market-share and fruitful client relationships. Our process approach has facilitated the development, implementation, and improvement in the effectiveness of our comprehensive Quality Management System (QMS), to enhance customer satisfaction by meeting our customer requirements.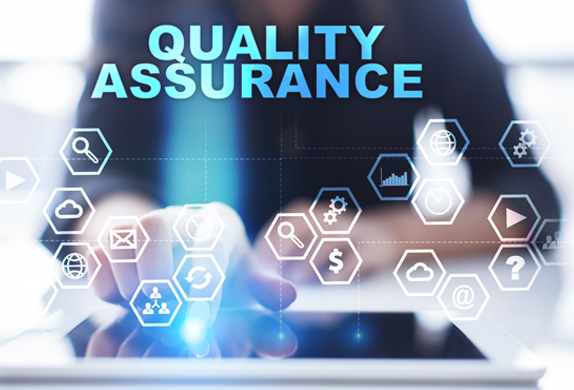 SFO Quality Policy
"We are committed to comply with customer requirements, statutory and regulatory requirements and the requirements of all other interested parties by establishing and maintaining an appropriate quality management system. The quality management system shall be reviewed periodically to ensure that its effectiveness is maintained and is continually improved to exceed the expectations of all interested parties."